| 2006.02.12. |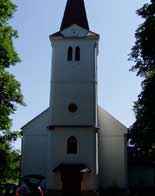 NEW ORGAN IN DÉDES
The work on the organ built for Dédes Calvinist Congregation has been in progress for weeks. The disposition was designed by Károly Sepsy priest and organ player, the spectacle was designed by architect Péter Oltai.
The 2-manual, pedal, 9-register organ is going to be consecrated after Easter.

| 2006.01.28. |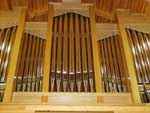 PROFESSIONS DAY IN BUDAÖRS
We introduced our new organ to the visiting professionals on January 28th 2006, on an open professional day. Several organ players, choir-masters and organ-builders came to hear and try the new instrument. Dr. Gyula Kormos organ expert gave a lecture on the construction of the organ. Later the audience enjoyed the concert of Balázs Szabó third year student of Hungarian Academy of Music.

| 2006.01.09. |
CONSECRATION OF THE ORGAN IN BUDAÖRS
Imre D. Szebik, bishop of Northern Church District consecrated the new organ of the Lutheran Church in Budaörs on January 8th, 2006.
In the liturgy of the consecrating Imre Bence, dean of Buda Church District and Géza Endreffy, the priest of the congregation served.
The nine hundred and sixty-pipe organ was introduced by Gábor Trajtler priest and organ player.